Indicator #3: RSI Indicator
The Relative Strength Index ( RSI ) is one of, if not the, most popular indicator used by traders all over the world for all different markets. From stock traders to forex traders, to crypto traders.

What we've done is taken the standard boring RSI to a completely new level by adding some features that make it a much more powerful, pleasant experience all around.

As with all of our other indicators, this one is designed by professional traders, for professional traders.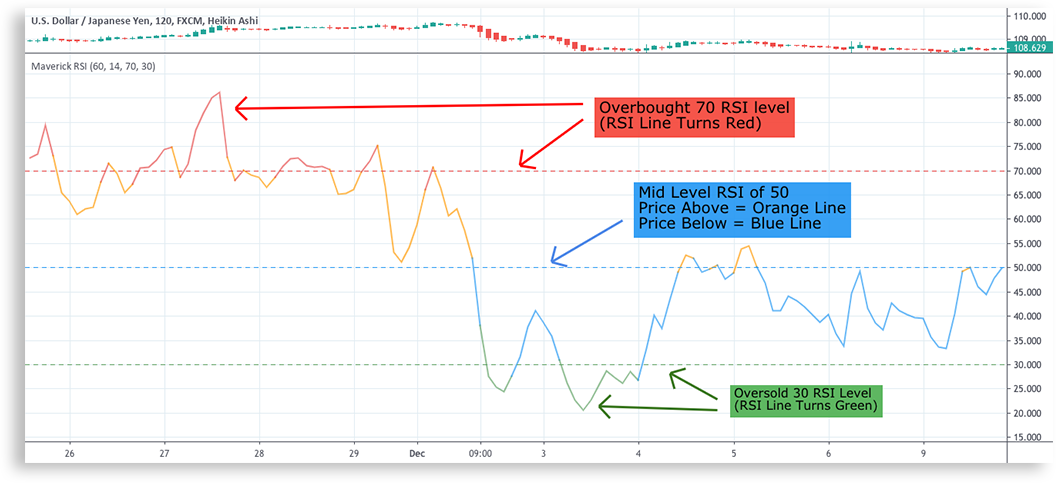 In this image, you can see how the color of the RSI line actually changes based on its level. This is unlike the standard RSI indicator that does not change colors at all. Generally, we consider a level of 70 or above to be overbought and a level of 30 or below to be oversold.

If the RSI value is overbought, the line will be colored red.
If the RSI value is oversold, the line will be colored green.

We've also have 4 different alert options for Divergence so you can be notified as soon as divergence is detected!
Regular Bullish Divergence
Regular Bearish Divergence
Hidden Bullish Divergence
Hidden Bearish Divergence